SENIOR VICE PRESIDENT & CHIEF OPERATING OFFICER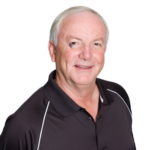 Garfield Ganong has over thirty-five years of experience in development and project management of a diversity of projects. His responsibilities on these projects have encompassed conceptual and feasibility studies through to commissioning of projects ranging from sports and entertainment facilities delivered through municipal partnerships, and renovations of existing facilities to light and heavy industrial plants. Garfield is Nustadia's chief operating officer responsible for the day-to-day operations of the company and the development of recreation facility infrastructure projects throughout Canada.
He has project managed and set up the operations for most of Nustadia's recreation facility projects, including recently the County of Grande Prairie Sportsplex, Evraz Place (6 plex Regina), the BMO Centre (4 plex, Halifax), Mohawk 4 Ice Centre (Hamilton), and the Superior Propane Centre (Moncton). Mr. Ganong performed design reviews and provided project services for many other infrastructure projects as part of Nustadia's role as owner representative. Mr. Ganong is a past director of the Cochrane Group of Companies.
EDUCATION
Bachelor of Engineering (Civil), University of New Brunswick
PROJECT SPECIFIC EXPERIENCE
Sportsplex, County of Grande Prairie, AB
BMO Centre 4 Pad Arena, Halifax, NS
HRM Speed Skating Oval, Halifax, NS
Evraz Place Revitalization Initiatives Project, Regina, SK
Lakeshore Collegiate Indoor Playing Field, Toronto, ON
Surrey Multipurpose Spectator Arena, Surrey, BC
Medicine Hat Arena Feasibility Study, AB
Campus Ice Centre, Oshawa, ON
William P Wilder, Upper Canada College Twin Pad, Toronto, ON
Mohawk 4ice Centre, Hamilton, ON
Superior Propane Centre (4-Ice Pad), Moncton, NB